Our goal is provide urgent material aid to support displaced people, and we work hard to ensure we deliver this aid in a manner that promotes dignity among migrants.
We distribute daily hot meals and ingredients for cooking, clothes, hygiene products, blankets, and sleeping bags. We do everything we can to ensure a responsible approach and to adapt quickly to changing needs. In order to do so we make sure we communicate properly with displaced persons and adapt our approach to the needs of the most vulnerable.
Where we work
Our teams work every day in Calais and the camp at Grand-Synthe, and we regularly send aid to Norrent-Fontes, Paris, and Athens.
Food Distribution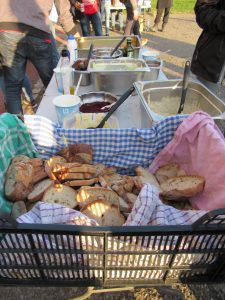 Alongside our partner RCK (Refugee Community Kitchen) we distribute around 1000 hot meals every day (in Calais and Grand-Synthe). We stock 'Free Shops' in the camp with ingredients for cooking. While the distribution of hot meals allows those in the most precarious situations to eat, distributing cooking ingredients allows people with access to a kitchen to decide what they'd like to cook, giving them some level of control over their own lives.
Giving migrants the opportunity to cook for themselves means they are able to offer hospitality to volunteers. We are regularly invited to have tea with people who want to give back. It's a really important exchange, creating links between us.
Distribution of clothes and blankets
A team visits Grand-Synthe every day to evaluate individual need for clothes, blankets and other items, and then prepares these items for distribution. We have found that having a single static distribution point with people waiting in line was not dignified, so we prefer this more personal approach. Each shelter is visited once every three weeks, while another team focuses their efforts on the most vulnerable people and those with urgent needs.
We distribute items which are needed most, such as warm clothes and blankets, but as we also want to improve the overall level of comfort in the camps we offer other items such as hygiene products and kitchen utensils.
Maraudes
We accompany Utopia 56 on mobile aid distribution in Calais, handing out sleeping bags, blankets, clothes, and food. Our volunteers regularly participate in night-time distribution.
The Maraudes allow us to give aid to people in the most unstable situations. The majority of people returning to Calais are minors, and we are equipped to inform them of their rights and try to ensure their welfare. Volunteers from Utopia 56 are available 24/7 in emergencies.
Advocacy
The struggle to provide decent conditions for migrants includes making sure the authorities are aware of, and held to account over, the situation migrants are facing. We work actively on the issue of unaccompanied minors, aiming to introduce a solid protective system for minors living in camps.
We are also actively involved in the defence of refugee rights, notably arguing against the Dublin referral system.
Supporting local CAO volunteers
Our CAO (Centre d'Accueil et Orientation – Welcome and Orientation Centre) network (http://www.infoCAO.net/) mobilises volunteers who work in CAO centres, aiming to provide the best conditions. Volunteers are an important part of the integration process, offering exchanges and French lessons, and ensuring that people's rights are respected.
Auberge works with Utopia 56 to make sure that volunteers are also offered support.